Bezign Design has chosen to use PREMIUM Photo Wall-Cling Vinyl for all its image printing. Photo Wall-Cling Vinyl is easy to apply, sticks with ease, and removes just as easily. Photo Wall-Cling Vinyl has special layers integrated into the material that gives it a rich, smooth feel, that no other vinyl can match.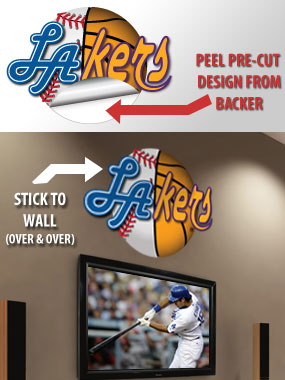 Premium Grade LA-kers Wall-Cling
A "Must Have" For Dodger Fans, Laker Fans, & LA Fans!
This brand new LA-kers wall-cling is a uniquely trademarked design. Your LA-kers WallCling will arrive on a plain white background, with the image perfectly cut, and ready to peel from the backing. A bonus squeegee is included with your order for the easiest bubble-free application!
Approximately 36″ Wide x 24″ Tall
PRICE $89!*
SALE $49.99*
* Plus Shipping & Handling, and tax for California residents